 Rosé Forêt cordially invites you to Winter in the Woodlands, co-hosted by Bay Area Kei and Pretty Princess Club. Join us for a revelrous weekend featuring an online marketplace, fashion show, J-fashion panels, and tea parties. Come together to virtually connect with and get to know other J-fashion enthusiasts from around the world!

This event will take place from December 11th - December 13th, 2020. Check below to see the panel line up. At that time, you can find us on the J-Fashion on Demand Twitch

Enter our Charity Drawing for a chance to win a prize!
Three ways to enter:

Don't forget to fill out an entry form so that your entry counts!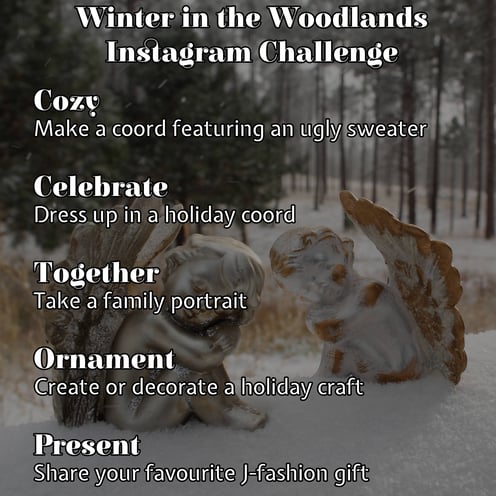 2) Participate in our Instagram challenge
You must complete all five challenges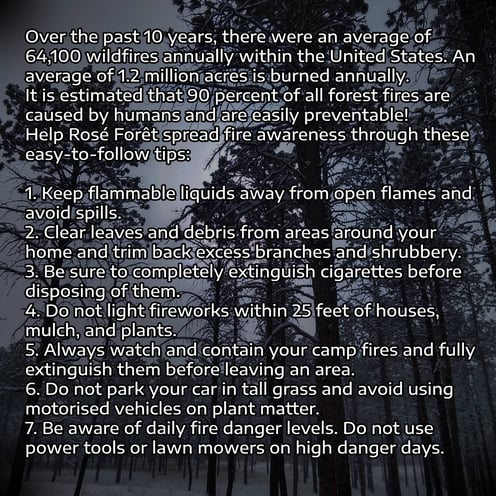 3) Find us on Instagram and share this post about fire safety on your feed (not your stories)
You must be following @roseforetco on Instagram
You must like the post and tag a friend in the comments
Enter the drawing for a chance to win any of these Prize Packs
$50 Gift Certificate from Black Bird Finery
Bat Rosette and Earrings from Mossbadger


$20 Gift Certificate from A. Gato Designs
$25 Gift Certificate from Dandy Puppetrois
15% off code to Pop Princess


Beret of Choice from Tea Love Crochet
$25 Gift Certificate to Teja Jamilla
Exclusive Snowflake Pin from Chocolat Chaud

Vampire Rose Coffin Rosary in Winter Blue from Neant Glass
Pile of Presents Brooch from Lily of the Valley


Vampire Rose Coffin Rosary in Winter Blue from Neant Glass
10% off Code from Sweet Bitz
15% off Code from Rinne Kanzaki


€10 Gift Certificate from Summer Tales Boutique
$20 Gift Certificate from Paradise Rose Shop
50% off Code from Of a Long Lost Land
50% off and Free Shipping from Märchen Maiden


Check back soon for more updates!